Definition of Media Viability
There are many different definitions of media viability, especially since the concept is used often interchangeably with 'sustainability' – in multiple combinations, such as 'financial sustainability', 'media sustainability' or 'business sustainability' – and also the term 'resilience'.
Here, we use the following definition for Media Viability:
Media viability is the whole of conditions that need to be fulfilled for media to be able to exist and flourish completely independently (on their own). These include factors that media outlets can – to some extent – influence themselves (f.e. job positions created in the organisation, a culture that stimulates innovation), but also factors an individual outlet cannot influence (f.e. the legal framework, economic conditions in the country, the advertisement market).
---
Framework and Level of Influence
Clearly, media viability is not an easy-to-grasp concept. It consists of many different elements, which in turn vary in terms of tangibility. In this reference guide, we distinguish between factors on the macro, meso and micro level. This framework is derived from Deutsche Welle Akademie's model for Media Viability Indicators.[1] The factors listed (can) influence, also in interaction with each other, the outcome of a medium's activities, regardless of whether this is measured in terms of revenue, reach or impact:
Macro: factors specific to the country as a whole, such as economic factors (f.e. income level of the audience, an environment that stimulates start-ups) and the political stability in a region, country or area.
Meso: factors specific to the media market, such as media regulatory frameworks, internet regulation, the advertisement market, media capture, media concentration (i.e. competition), self regulation, and coalitions for change.
Micro: factors that are specific to the media business itself, such as the business model and other characteristics of the structure, strategy and (human) resources involved that influence the successful continuance of independent media.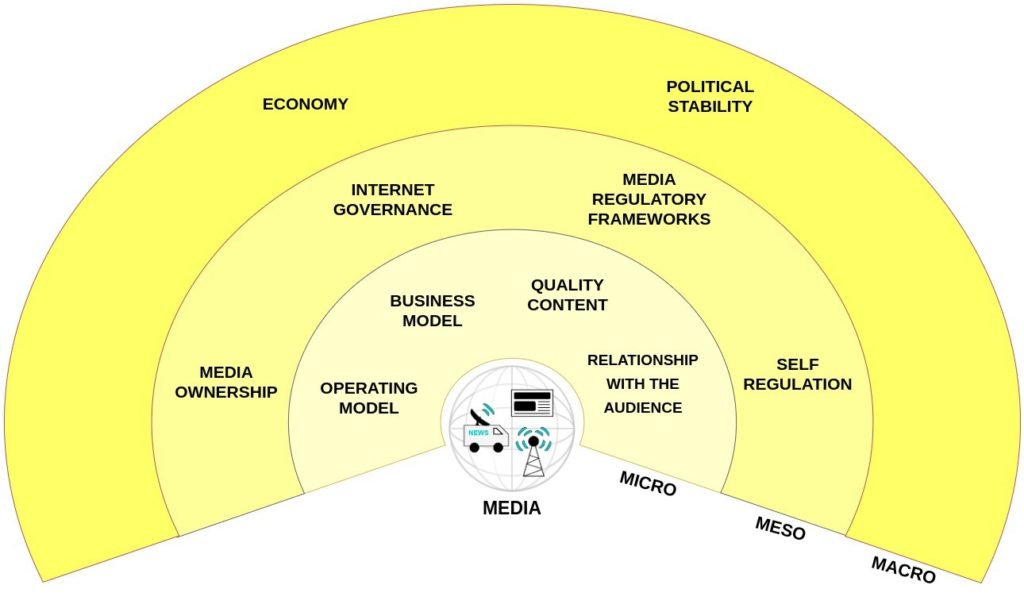 ---
Macro Level
The macro level of media viability includes factors that can be influenced to a certain extent with policies, but that are nevertheless complex. Economy and political stability are the two main indicators at this level. Generally, these indicators are not only influenced by government policies, but also by factors outside of the government's control. More information about the macro level can be found in Free Press Unlimited's resource guide Enabling Environment for the Media.
---
Meso Level
The meso level of the theme Media Viability refers to factors that influence media viability – and that are at the level of the media sector in a country.
Media Regulatory Frameworks and Self Regulation
Media regulation refers to the downward accountability of media towards their public. This means that they have to uphold ethical standards, working towards bringing reliable information to the public. More information about accountability can be found in Free Press Unlimited's resource guide called 'Media Fostering Accountability' (in development). (Self) regulatory frameworks often come in the form of ethical charters, unions or coalitions.
Internet Regulation
Internet regulation is an often discussed topic. The role of large social media platforms and internet companies in censoring information, allowing for hate speech, and diverting advertisement income from media outlets are just a few of the concerns that feature in discussions. Internet regulation as a media viability theme is complex and extensive. Free Press Unlimited's page about Internet Governance provides for additional information.
Media Ownership: Media Capture
At the meso level, a trend that is visible around the world is media capture. A publication edited by Anya Schiffrin in 2017[2] includes a taxonomy of media capture. The first is media capture by ownership, in which a set of wealthy individuals and/or corporations buy media. The second is media capture by financial incentives, in which media is led astray by financial incentives such as ad revenues. Another definition is media capture by censorship. Here governments does not necessarily own media but media are restricted by freedom of press laws. The last definition is media capture by cognitive capture. This is when the media do not act as a fourth estate of democracy by positing new views, but merely reflect views that are commonly held by society. Schiffrin et al. propose various ways to prevent media capture and reinforces the idea that creating a legal regulatory framework contributes to establishing an enabling media environment.
---
Micro Level
Ultimately, all factors in the media viability model affect the (functioning of) media business and the business model of a medium. This does not mean that media outlets themselves do not have any influence; having a structure that is build around flexibility and innovation, continuously updating the business model, and investing in audience (community) support are factors with a positive and immediate impact on the resilience of a media business.
Free Press Unlimited considers four pillars vital to boost viability from the micro level perspective:
A conducive operating model – this includes the structure of the organisation, the capacity, roles and responsibilities of staff members, the work flow and systems in place;
A coherent business model – how the medium creates value (this can be monetary, but also social);
The relationship with the audience – understanding and engaging with the audience, and building a loyal audience base;
Delivering quality content – bringing reliable information that is relevant to the audience and inclusive in nature.
More information on this topic is available on the page 'What can a media outlet do to boost its viability' that is included in this resource guide.
---
Footnotes
[1] Deutsche Welle Akademie,
More than Money: Rethinking Media Viability in the Digital Age
[2] Schiffrin, A.,
In the Service of Power: Media Capture and the Threat to Democracy