Killings of journalists
Physical violence against journalists comes in many different forms: from assault to abduction and at its most extreme, killing. Overall, over the past decade, a journalist has been killed on average every four days. In 2018-2019, UNESCO recorded a total of 156 killings of journalists worldwide.[1] The year 2019 shows the lowest death toll recorded by UNESCO in the last decade with 57 deaths. Despite this decrease in killings, journalism remains a dangerous profession. The threats faced by journalists are many and ever-changing. Furthermore, in recent times fewer journalists were killed, but this is mostly due to the decrease of killings of journalists in armed conflicts, related to a decrease in armed conflicts. According to UNESCO's numbers, in 2018-2019, 89 journalists were killed in countries with no armed conflict, whereas 67 journalists were killed in countries where there was an armed conflict. Killings occur everywhere, but in 2019 the highest number of fatal attacks occurred in the Latin America and the Caribbean region, representing 40 percent of the total killings registered worldwide, followed by the Asia and the Pacific region with 26 percent of killings.[2]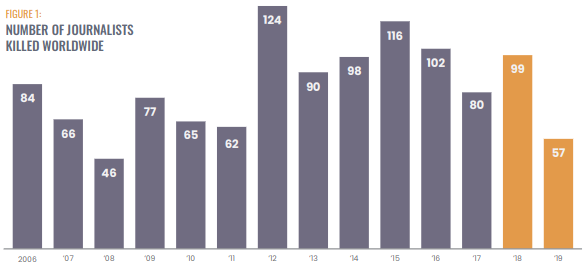 This shows that there has been a shift in the circumstances of and motives for the killings. Previously, journalists were predominantly killed in conflict areas either as a result of crossfire, or by a party to the conflict. This is also reflected in the fact that only half of the journalists killed in 2018-2019 were killed while on duty.[3] In recent years, fatal attacks against journalists covering stories related to corruption, human rights violations, environmental crimes, trafficking, and political wrongdoing have risen in a number of other countries without armed conflict. The motive, therefore, has changed to 'silencing critical reporting and creating an atmosphere of fear'.[4] Furthermore, a potential reason for lower numbers of killings of journalists in 2018-2019 than in previous years may be that increasingly more journalists are practicing self-censorship in reaction to widespread threats. Additional factors affecting certain countries without armed conflict could be increasing intolerance towards reporting, fostered by a climate of anti-press rhetoric, including by political leaders, which translates into individual attacks against media professionals.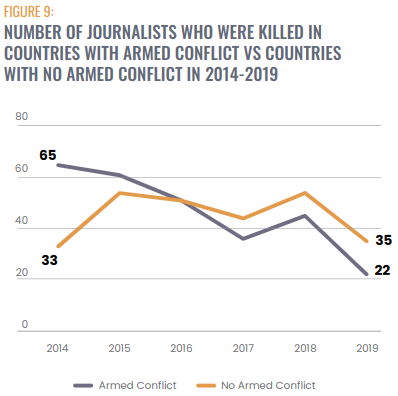 The media professionals that are most vulnerable to violence are those working within their own country. UNESCO's study of the 2018-2019 biennium shows 95 local journalists killed in 2018 on a total of 99 killings, and 56 local journalists killed in 2019 on a total of 57 killings. About 13 percent of these deaths belonged to freelance journalists.[5] This group is particularly exposed to risks as they usually work alone and rarely get the same level of protection and assistance that staff reporters receive. Freelance journalists often have less or no access to physical safety training, insurance, and protective equipment.
---
Other physical safety threats
As is written in UNESCO's Director-General report of 2018: 'the killing of journalists, the ultimate form of censorship, is just the tip of an iceberg of attacks against journalists, which range from non-lethal physical attacks, kidnapping, illegal detention, threats, harassment off-line and online, to retaliations on family members'.[6] Two years later, this still holds. In the face of these threats, many journalists find to have no choice but to go into exile or abandon their profession.[7] Journalists may also run risks in specific circumstances which may be more hazardous to them, such as during protests or elections. In one of its issue briefs, UNESCO pointed to a wider upward trend in the use of unlawful force by police and security forces.[8] Violence against media professionals may in part come from the declining levels of trust in the media, caused by hostile, anti-media discourse, such as discrediting journalistic reporting by calling it 'fake news'.[9] Anti-media rhetoric can then also be seen as a way to justify the targeting of journalists.
Learn more

Through the Rory Peck Training Fund of the Rory Peck Trust, freelance journalists who work in hostile environments can receive bursaries for safety trainings that are provided by six course providers that the Rory Peck Trust works with. For more info, see this page.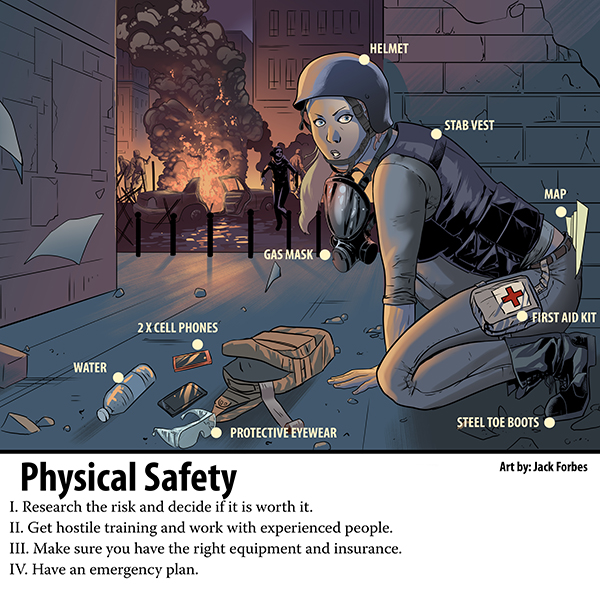 Doing a risk assessment before going on an assignment is of great importance. The Committee to Protect Journalists has identified risks and factors that should be taken into consideration when doing a risk assessment. The International News Safety Institute has published information on how to mitigate risks and engage in planning and preparation. Front Line Defender's Workbook on Security also explains how a risk assessment can be carried out.
---
Practical resources
| Resource | Year | Description | Language(s) |
| --- | --- | --- | --- |
| A Survival Guide for Journalists (Peter McIntyre, for the International Federation of Journalists) | 2003 | This book is a compilation of the knowledge and experience of journalists who live and work on the front line of conflict and who have learned to survive while continuing to do their jobs. | English |
| Reporting for Change: A Handbook for Local Journalists in Crisis Areas (Institute for War and Peace Reporting) | 2004 | This handbook, targeted at journalists in crisis areas, teaches international reporting standards, explaining the journalistic process clearly, from subject choice to final editing. | English, Arabic, Farsi, Russian, Kazakh, Kyrgyz, Tajik |
| Guide to Safely and Securely Producing Media (Small World News) | 2011 | This guide explains how journalists can share their story with the world safely as well as how to communicate their story more effectively. | English, Arabic |
| Journalist Security Guide: Covering the News in a Dangerous and Changing World (Committee to Protect Journalists) | 2012 | This guide provides journalists with tools and information on how to cover the news in a dangerous and changing world, and is part of the four-part Safety Kit. | English |
| Security Manual for Protest Coverage (Abraji) | 2014 | This handbook contains tips and anecdotes from professionals who have experienced risky incidents while covering protests. | English |
| Reporting Atrocities: A Toolbox for Journalists Covering Violent Conflict and Atrocities (Peter du Toit, for Internews) | 2014 | This toolkit provides insights and tools for journalists reporting on extremely violent conflicts, so they can potentially make a constructive contribution to the eventual peaceful management and resolution of conflicts through their reporting. | English |
| GroundTruth: A Field Guide for Correspondents (The GroundTruth Project) | 2015 | This guide contains guidelines on how to operate safely in the field, as well as essays by veteran journalists. | English |
| Safety Guide for Journalists: A Handbook for Reporters in High-Risk Environments (UNESCO & Reporters Without Borders) | 2015 | This guide aims at providing guidelines and practical advice for journalists who work in high-risk environments. | English, French, Spanish, Arabic |
| Workbook on Security: Practical Steps for Human Rights Defenders at Risk (Front Line Defenders) | 2016 | This workbook takes one through the steps to producing a security plan – for oneself and for one's organisation – by following a systematic approach for assessing one's security situation and developing risk and vulnerability reduction strategies and tactics. | English, Dari, Urdu, Somali |
| Safety Net Manual: Guidelines for Journalists in Extraordinary or Emergency Situations (South East Europe Media Organization) | 2017 | This manual contains safety guidelines in extraordinary situations, like reporting from conflict areas, during demonstrations and social unrest, about natural and other disasters etc. | English, Bosnian, Serbian, Montenegrin, Bulgarian, Croatian, Slovenian, Romanian, Macedonian, Greek, Italian, Turkish |
| Safe + Secure Handbook (Doc Society) | 2017 | This handbook contains many resources and issue-checklists concerning the safety and security issues that documentary filmmakers face. | English |
| Face à la Montée des Risques en Période Électorale: Petit Manuel de Securité pour les Journalistes (Journaliste en Danger) | 2018 | This manual contains concrete safety advice in the context of electoral campaigns. | French |
| Physical Safety: Civil Disorder (Committee to Protect Journalists) | 2018 | This safety note contains concrete safety advice in the context of civil disorder, such as during reporting on crowd violence or mobs. | English, French, Spanish, Portuguese, Arabic, Russian, Chinese |
| Physical Safety: Terrorist Attacks (Committee to Protect Journalists) | 2018 | This safety note contains concrete safety advice in the context of civil terrorist attacks. | English, French, Spanish, Portuguese |
| Physical Safety: Natural Disasters and Extreme Weather (Committee to Protect Journalists) | 2018 | This safety note contains concrete safety advice in the context of natural disasters and extreme weather. | English, French, Spanish, Portuguese |
| Physical Safety: War Reporting (Committee to Protect Journalists) | 2019 | This safety note contains recommendations on how to mitigate risks when going on assignment in a conflict zone. | English |
| Physical Safety: Solo Reporting (Committee to Protect Journalists) | 2019 | This safety note contains recommendations on how to mitigate risks when on assignment alone. | English, French, Spanish |
| Physical Safety: Mitigating Sexual Violence (Committee to Protect Journalists) | 2019 | This safety note contains recommendations on how to minimise the risk of being a victim of sexual violence. | English, French, Spanish |
| Philippine Journalists' Safety Guide (National Union of Journalists of the Philippines) | 2020 | This guide includes practical tips for Filipino journalists, modified for Philippine coverages and context. It is divided into eight chapters and goes into, among other things, physical safety. | English, Tagalog, Bisaya |
| Civil Unrest Resources (ACOS Alliance) | 2021 | This page contains resources from ACOS Alliance members on protest situations, covering everything from risk assessment and planning to situational awareness and on-the-ground tactics. | English |
Footnotes
[1]
UNESCO, 2020 DG Report on the Safety of Journalists and the Danger of Impunity
[2]
Ibid.
[3]
Ibid.
[4]
UNESCO, Intensified Attacks, New Defences: Developments in the Fight to Protect Journalists and End Impunity
[5]
UNESCO, 2020 DG Report on the Safety of Journalists and the Danger of Impunity
[6]
UNESCO, 2018 DG Report on the Safety of Journalists and the Danger of Impunity
[7]
UNESCO, Intensified Attacks, New Defences: Developments in the Fight to Protect Journalists and End Impunity
[8]
UNESCO, Safety of Journalists Covering Protests: Preserving Freedom of the Press During Times of Turmoil
[9]
UNESCO, Intensified Attacks, New Defences: Developments in the Fight to Protect Journalists and End Impunity
---