There is a growing list of safety risks within the digital domain, including internet shutdowns, surveillance, digital attacks and a lack of access to the technology that enables safe and secure communication. Digital threats often come from states, that gather extensive information about journalists such as their whereabouts, networks or sources. Authorities can then use this intelligence to intimidate the media. Journalists and media organisations often lack the awareness and capacity to effectively protect themselves, their information and their sources. Another threat to digital safety comes in the form of online harassment, which can range from direct harassment, such as being trolled, to invasion of privacy, such as being hacked.

Freedom of expression also applies to the Internet, meaning that the same rules for restricting the Internet as means of communication apply as when other means of communication are restricted. Therefore, these 'restrictions on freedom of expression on the Internet are only acceptable if they comply with established international standards, including that they are provided for by law, and that they are necessary to protect an interest which is recognised under international law'.[1] This means that states have the obligation to promote universal access to the internet, as 'access to the internet is also necessary to promote respect for other rights, such as the rights to education, health care and work, the right to assembly and association, and the right to free elections'.[2]
Learn more

Access Now has a free-of-charge helpline offering real-time, direct technical assistance and advice to civil society groups and activists, media organisations, journalists, bloggers and human rights defenders. See here for more information.
---
Online harassment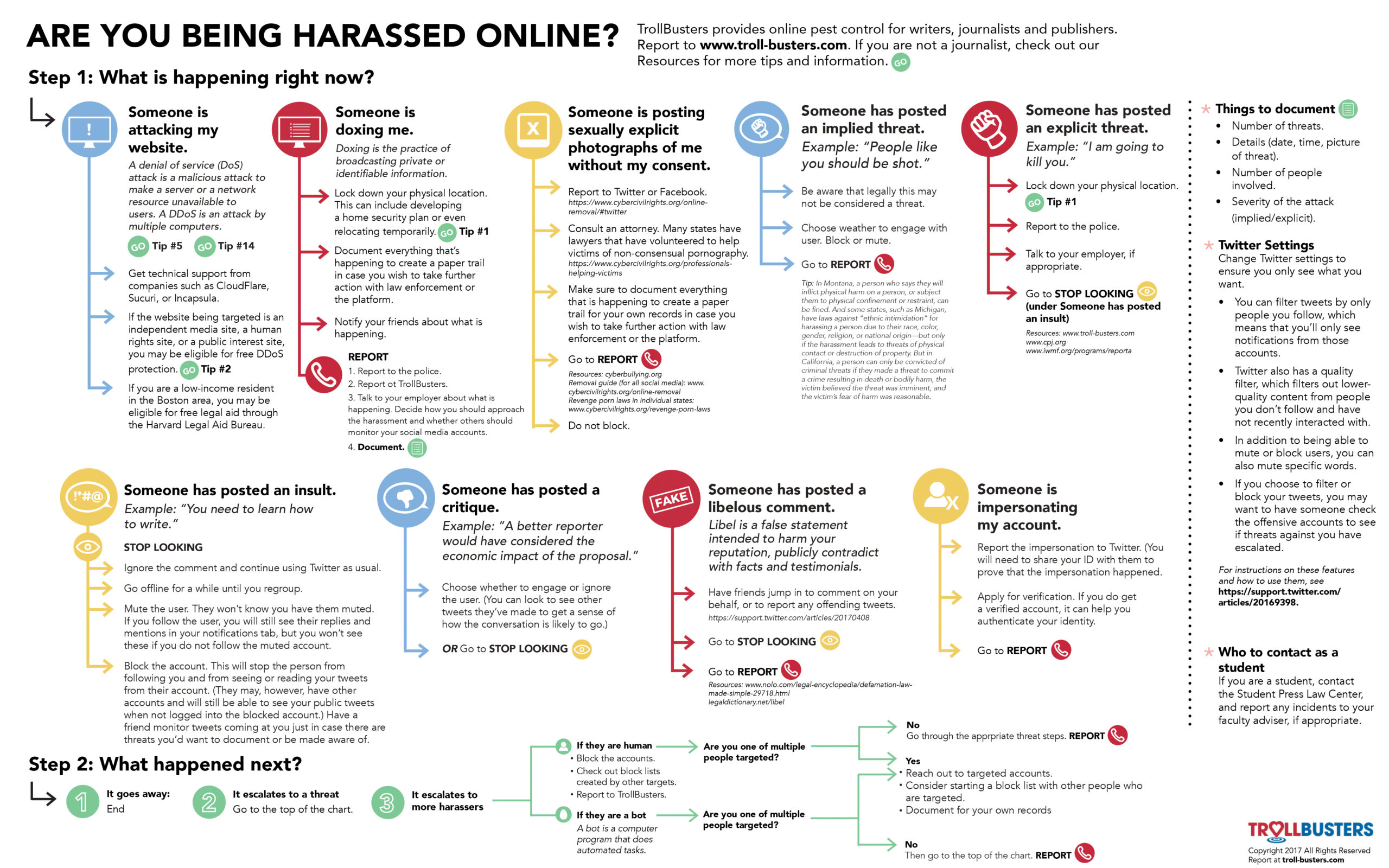 Online harassment can take different forms, such as offensive name-calling, sending unwanted images, spreading fake information about someone, physical threats, sexual harassment or stalking. Three different forms of harassment can be discerned:[3]
Direct harassment refers to things that people do directly to one another. Examples include being called offensive names, being threatened physically, and being stalked.
Invasion of privacy refers to harm inflicted upon the victim through the unauthorised access to and exposure or spreading of information beyond the owner's control. Examples include being hacked, having information about or images of the person exposed online without their permission (doxing), being impersonated, being monitored, and being tracked online.
Denial of access occurs when someone uses the features of the technology or platform to harm the victim, usually by preventing access to essential digital tools or platforms. Examples include sending a very large number of unwanted messages; rendering the account unusable; misuse of reporting tools so that the person is blocked from using a platform; and technical attacks that overwhelm a device, site, server or platform and prevent access to it. Internet shutdowns also fall under this category.
Even though online harassment takes place in the digital world, it often has consequences in the offline world. People targeted by online harassment for example experience mental and emotional stress, lower self-esteem, reputational damage and fear for personal or family's safety. Furthermore, after witnessing the harassment of others, some people decide to not post certain things online or to even stop using an online service.[4]
Online harassment is a serious issue for journalists, since an inherent part of their job is to engage in public debate and to be visible in the public domain, both online and offline. Online harassment is often used as a tool to silence journalists. Online harassment clearly becomes a press freedom issue 'when journalists engage in behaviors that reduce audience engagement, remove content from media websites, or abandon certain lines of investigation'.[5] In some cases, journalists that are heavily targeted by online harassment might even decide to stop publishing on a certain topic (self-censorship) or leave the profession entirely.
Online harassment has a gendered component, as women journalists are more often subject to online harassment. Additionally, they tend to be subject to different and more severe forms of online harassment, such as sexual harassment and gendertrolling.
Learn more

For more information on the safety of women journalists, see this page.
Common approaches (see here for more information) to protect oneself against online harassment and other digital safety threats include:
Documenting the harassment;
Blocking the transmitter(s) of hateful messages;
Seeking social support and help from colleagues and employers;
Reporting the harassment;
Protecting one's digital safety, for instance by setting up safe passwords, using secure messaging apps, and using encryption.
Also see this online course on online harassment. Its goal is to help journalists identify the abuse they are receiving online and who may be behind it as well as offer some key strategies that may help journalists to be better prepared.
---
Internet shutdowns
Internet restrictions vary from country to country. In some countries the extent to which states impose restrictions - for example restrictions or bans for torrenting, pornography, social media, VPNs, messaging/VoIP apps, and restrictions or heavy censorship of political media - is very far-reaching. In some cases, internet restrictions may be a symptom of a larger crackdown on internet freedom, which may even include internet shutdowns.
Learn more

Comparitech published a study which explores internet restrictions and censorship in 175 countries to better understand which countries have a free/open Internet and which governments impose the harshest internet restrictions.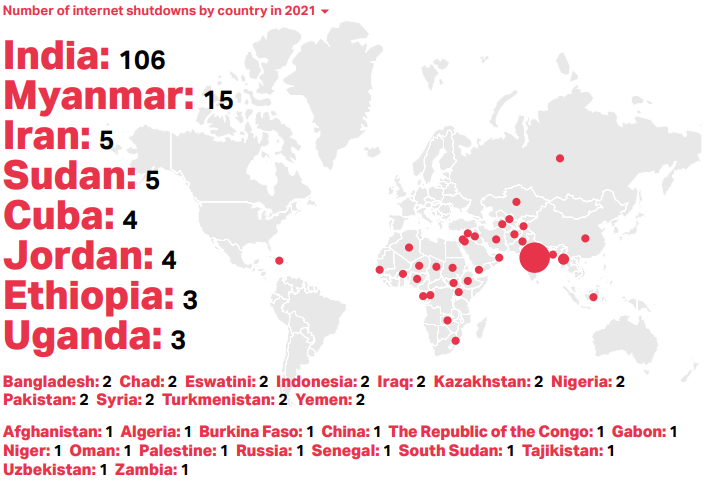 Government-mandated internet shutdowns pose a serious problem. In 2021 Access Now and the #KeepItOn coalition documented 182 internet shutdowns across 34 countries. This shows a dramatic resurgence of this oppressive form of control compared to 159 shutdowns recorded in 29 countries in 2020.[6] An internet shutdown can be defined as 'an intentional disruption of internet or electronic communications, rendering them inaccessible or effectively unusable, for a specific population or within a location, often to exert control over the flow of information'.[7] They can be either imposed by the government or by non-state actors, and can include full network shutdowns as well as the partial blocking of access to the Internet (such as those trying to connect via mobile), the blocking of social media platforms, and the intentional slowing of an internet service (throttling). Internet shutdowns are often imposed in a targeted fashion, meaning that they aim at silencing a specific target group, such as journalists, human rights defenders, or members of a marginalised minority group.[8] Rationales for this can range from silencing protests to hiding human rights violations. However, governments can justify shutdowns in a variety of manners.
In 2021, the trends that could be observed were:
Prolonged shutdowns;
Increased use of mobile shutdowns during protests;
Targeted blocking of communications platforms;
Advancing technologies: combining throttling, blocking, and network shutdowns;
Shutdowns targeting specific locations and populations.
Last year, authorities continued to cut or slowed internet access, blocked communications platforms, or otherwise interfered with online communications during protests, social or political unrest, elections, and even during active conflicts, often as a means of asserting or maintaining power. Governments also continued the practice of shutting down the internet during exams in many countries.
Learn more

For more information on internet shutdowns in 2021, see the report by Access Now entitled The Return of Digital Authoritarianism: Internet Shutdowns in 2021.
Internet shutdowns can be contravened in a number of ways, unless the Internet is cut off completely. However, if it concerns a partial internet shutdown, the three main tips are:
Using circumvention tools, such as Tor;
Setting up a VPN connection;
Protecting one's privacy and security by using specific tools and apps (see here for more information).
Learn more

A lot of shutdowns happen during elections. Access Now therefore created the Internet Shutdowns and Elections Handbook. This handbook explains how internet shutdowns undermine democratic elections and provides tips and recommendations for key actors to navigate shutdowns and assess the extent to which an election is taking place under a shutdown is free and fair.
---
Practical resources
Resource
Year
Description
Language(s)
TOTEM (Free Press Unlimited & Greenhost)
n.d.
This online learning platform helps journalists and activists use digital security and privacy tools and tactics more effectively in their work.
English, French, Spanish, Arabic, Farsi
Cybersecurity Toolkit for Journalists (Global Cyber Alliance)
n.d.
This toolkit, designed to be completed in seven steps, aims to empower independent journalists, watchdogs, and small newsrooms with information and tools to protect their sources and reputation.
English
Safety Repository (Money Trail)
n.d.
This repository, part of the Money Trail project, links to a number of trusted digital security tools.
English
Journalists in Distress: Securing Your Digital Life (Canadian Journalists for Free Expression)
n.d.
This website contains information, tips and resources on protecting oneself and others against digital vulnerabilities that state and non-state actors can exploit.
English, French, Arabic
Explainers (Privacy International)
n.d.
This series of videos and blogs explain concepts such as digital safety, surveillance and privacy.
English
Data Detox Kit (Tactical Tech)
n.d.
This toolkit shows everyday steps one can take to control one's digital privacy, digital security, and digital well-being.
English, Spanish, Portuguese, Italian, Norwegian, Ukrainian, Chinese
Surveillance Self-Defense (Electronic Frontier Foundation)
n.d.
This guide provides tips, tools and how-tos for safer online communications and how to protect oneself from online spying.
English, French, Spanish, Portuguese, Arabic, Urdu, Russian, Turkish, Vietnamese, Thai, Tigrinya
C.O.A.C.H (Crash Override)
n.d.
This step-by-step guide coaches one through basic digital security and safety.
English
Privacy Analyser (Privacy.net)
n.d.
This tool lists information that any website, advertisement, and widget can collect from your web browser, which could be used to identify you and/or track your behaviour.
English
Basic Internet Security Guide (Greenhost)
2011
This guide offers information on basic internet security.
English
SpeakSafe: Media Workers' Toolkit for Safer Online and Mobile Practices (Internews)
2012
This toolkit introduces journalists, bloggers and media workers to simple yet effective practices to maintain control of important information and communications.
English, Spanish, Arabic
Speak Up & Stay Safe(r): A Guide to Protecting Yourself from Online Harassment (Feminist Frequency)
2015
This guide details best security practices for social media, email, online gaming, website platforms, and ensuring privacy of personal information online, as well as the documentation and reporting of harassment, and caring for oneself emotionally during an online attack.
English, Spanish, Arabic
Digital First Aid Kit (Digital Defenders Partnership et al.)
2016
This toolkit provides preliminary support for people facing the most common types of digital threats, such as journalists, human rights defenders, bloggers and activists.
English
Security in a Box - Digital Security Tools and Tactics (Front Line Defenders & Tactical Tech)
2016
This toolkit covers basic principles, including advice on how to use social media and mobile phones more safely.
English, French, Spanish, Portuguese, Arabic, Farsi, Russian, Chinese, Thai, Turkish, Indonesian, Vietnamese
Flipcards (Me and My Shadow)
2016
These flipcards are aimed at raising awareness about our 'digital shadows' and providing information about how to protect one's privacy.
NB: the flipcards are no longer updated and may contain outdated information.
English, French, Spanish, German, Arabic, Urdu, Russian
A Guide to Staying Online if the Internet or Social Media Gets Blocked in Your Country (Quartz Africa)
2017
This guide contains tips on how to avoid partial internet shutdowns imposed by the government.
English
Self-Doxing Guide (Access Now)
2018
This guide contains tips and resources for exploring open source intelligence on oneself to prevent malicious actors from finding and using this information for publishing, blackmailing or other forms of harassment.
English
Online Harassment Field Manual (PEN America)
2018
This manual contains strategies and resources on how to defend oneself against cyber hate and how to fight online abuse.
English
Digital Safety Kit (Committee to Protect Journalists)
2019
These six safety notes are targeted at journalists looking to better protect themselves. The topics are the protection of accounts, phishing, device security, encrypted communications, secure internet use, and crossing borders.
English, French, Spanish, Russian, Persian
Digital First Aid Kit (CiviCERT)
2019
This resource informs about the most common types of digital emergencies and the way one can protect oneself against digital security risks.
English, French, Spanish, Portuguese, Arabic, Russian
TLDR Digital Safety Checklist (Hongkongkong)
2019
This checklist contains recommendations, sorted in ascending levels of difficulty, on how to protect one's personal digital security.
English, Chinese
Dealing with Hate Campaigns: Toolkit for Journalists (Dart Center for Journalism and Trauma)
2019
This toolkit provides journalists, but also their bosses and colleagues, tools and tips in the case of an online hate campaign.
English, Spanish
Measures for Newsrooms and Journalists to Address Online Harassment (International Press Institute)
2019
This website offers comprehensive resources for newsrooms to combat online harassment against journalists and its effects on press freedom.
English
6 Tips for Responding to Online Attacks Against Journalists (Global Investigative Journalism Network)
2019
These six tips outline techniques that newsrooms around the world can implement in order to combat online harassment.
English, Arabic, Russian, Bengali
Your Smartphone and You: A Handbook to Modern Mobile Maintenance (Freedom of the Press Foundation)
2019
This guide contains tips on how to protect one's online safety while using a mobile phone.
English
How to Survive an Internet Shutdown (ExpressVPN)
2019
This guide contains tips on how to avoid partial internet shutdowns imposed by the government.
English
Philippine Journalists' Safety Guide (National Union of Journalists of the Philippines)
2020
This guide includes practical tips for Filipino journalists, modified for Philippine coverages and context. It is divided into eight chapters and goes into, among other things, digital safety.
English, Tagalog, Bisaya
Training Resource Hub (Media Defence)
2021
This hub contains training materials and resources on freedom of expression-related topics, ranging from cybercrimes to false news, misinformation & propaganda.
English
---
Footnotes
[1]
Joint Declaration on Freedom of Expression and the Internet, adopted by the UN Special Rapporteur on Freedom of Opinion and Expression, the Organisation for Security and Co-operation in Europe (OSCE) Representative on Freedom of the Media, the Organisation of American States (OAS) Special Rapporteur on Freedom of Expression, and the African Commission's Special Rapporteur on Freedom of Expression and Access to Information in Africa
[2]
Ibid.
[3]
Data and Society Research Institute, Online Harassment, Digital Abuse and Cyber Stalking in America
[4]
Pew Research Center, Online Harassment 2017
[5]
Dart Center for Journalism and Trauma, Journalists and Online Harassment
[6]
Access Now, The Return of Digital Authoritarianism: Internet Shutdowns in 2021
[7]
Access Now, What Is An Internet Shutdown?
[8]
Access Now, Targeted, Cut Off, and Left in the Dark: The #KeepItOn Report on Internet Shutdowns in 2019
---