Despite enjoying legal protections on paper, media professionals increasingly face prosecution. This has become a primary method of restricting and intimidating journalists. In some cases, laws are used for so-called Strategic Lawsuits Against Public Participation (SLAPPs). A SLAPP is a type of vexatious legal action that have minimal legal merit – the claims are often groundless or exaggerated. However, their primary aim is to shut down critical speech by exhausting the defendants' resources and morale. SLAPPs target journalists who might, for instance, seek to expose corruption, as in most cases they will not be able to seek legal aid or pay the compensation sums if they are to be sued. As a result, media professionals often start self-censoring, and some may even be forced to flee their own country in fear of prison sentences or fines. To prevent litigation, media houses are spending large amounts on legal fees for lawyers to screen investigative stories pre-publication. The matter is further exacerbated by a lack of awareness and absence of legal experts and lawyers specialised in media legislation. Measures that could be taken to prevent SLAPPs are the introduction of anti-SLAPP legislation and training for judges and journalists.[1]
Read more on SLAPPS

The European Centre for Press & Media Freedom (ECPMF) published this informative article on SLAPPs and possible measures to prevent SLAPPs.

Index on Censorship created an interactive tool aimed at helping journalists to understand whether the legal threats or actions they are facing could be considered a SLAPP, while remaining completely anonymous. The assessment is based on the journalist's answer to 13 questions about their case. The questions asked in this assessment are based on research carried out by Index on Censorship into how SLAPPs against journalists most commonly manifest themselves. 
---
Most common legal threats
The International Covenant on Civil and Political Rights holds that restrictions on the freedom of expression shall only be those that are provided by law, pursuant to a legitimate aim, and necessary and proportionate. However, the following legal provisions are most widely used to restrict the freedom of expression and press and to prosecute journalists.
Some countries do have legislation in place that is meant to protect journalists, but its scope is often limited to those who practice journalism in a traditional setting. The narrow definition of journalist, for instance, only covers those who are a member of the Journalist Syndicate or practice a full time journalism job. This might exclude bloggers, citizen journalists and/or freelance journalists. This is problematic, because these groups are particularly exposed to risks, since – as they are not affiliated with a media outlet – they rarely get the same level of protection and assistance as staff reporters.
The prosecution of journalists for the aforementioned offences can go hand in hand with the lack of due process and thereby with arbitrary arrest and detention. Detention can be considered arbitrary when it is not in accordance with national legislation, or is inappropriate, unjust, unreasonable or unnecessary.[8] This has a chilling effect on the freedom of expression and creates a restrictive environment. The number of arbitrarily detained journalists had risen in 2019; worldwide 389 journalists are currently imprisoned in connection with their work, which is a 12 percent increase compared to the year before.[9]
Learn more

In January 2019 Free Press Unlimited launched a Legal Defense Fund to provide journalists and media organisations worldwide who face prosecution or imprisonment and who are unable to afford a lawyer or trial costs. For more information on the support that Free Press Unlimited provides to journalists, see this page.
---
Impunity
Impunity for crimes against journalists means that perpetrators of crimes against journalists remain unpunished; they are either not prosecuted, or the case is not investigated in the first place. As data from UNESCO shows, impunity for killings of journalists remains to be a widespread problem: despite a slight decrease in the rate of impunity, the percentage of resolved cases worldwide was still only measured at 13 percent in 2020.[10] However, the non-investigation and/or non-prosecution of other crimes committed against journalists, such as torture, also constitute as impunity. Impunity can result in self-censorship among journalists, as well as have a chilling effect on press freedom, as due to the lack of punishment, potential perpetrators might not shy away from silencing journalists through violence. Impunity is especially a problem in conflict-ridden countries with weak judicial systems, high rates of corruption and strong criminal networks.[11] Impunity can flow from both inability and unwillingness on part of the state.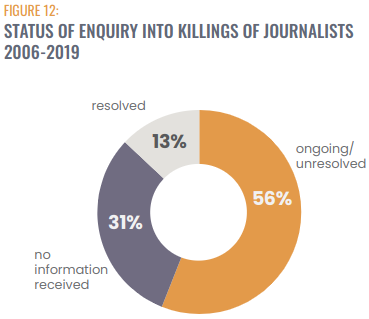 The UN Plan of Action on the Safety of Journalists and the Issue of Impunity (2012) is the first ever UN strategy to address the problem of journalists' safety and the problem of impunity. It was developed by UNESCO in consultation with other UN bodies, intergovernmental organisations, NGOs, professional associations and UNESCO's member states. This report by the Office of the UN High Commissioner for Human Rights (2017) elaborates possible ways to improve the protection of journalists and reinforce the implementation of the UN Plan based on key achievements, challenges and lessons learned from the first five years after the UN Plan had come into existence. More successful initiatives and best practices have been compiled in UNESCO's report An Attack on One is An Attack on All (2017).
---
Footnotes
[1]
Index on Censorship, Breaking the Silence
[2]
Ceasefire Centre for Civilian Rights and Minority Groups International, Civilian Activists Under Threat in Iraq
[3]
Special Rapporteur on the Promotion and Protection of the Right to Freedom of Opinion and Expression, UN Doc. E/CN.4.2000/63
and
UN Doc. E/CN.4.2001/64
;
ARTICLE 19, Memorandum on Croatian Criminel Libel Provisions
[4]
Mapping Media Freedom, Targeting the Messenger: Journalists Ensnared by National Security Legislation
[5]
Ibid.
[6]
Electronic Frontier Foundation, When Computer Crimes Are Used to Silence Journalists: Why EFF Stands Against the Prosecution of Glenn Greenwald
[7]
UNESCO, Intensified Attacks, New Defences: Developments in the Fight to Protect Journalists and End Impunity
[8]
Committee to Protect Journalists, Journalists Imprisoned, Charge of False News
[9]
Reporters Without Borders, Worldwide Round-up of Journalists Killed, Detained, Held Hostage or Missing in 2019
[10]
UNESCO, 2020 DG Report on the Safety of Journalists and the Danger of Impunity
[11]
UNESCO, Intensified Attacks, New Defences: Developments in the Fight to Protect Journalists and End Impunity
---