Activists can pick up the baton and follow-up on stories for greater political and societal impact. Knowing when a journalist's job stops and an activist's begins varies per story and situation. However, this section will offer some examples of successful impact tracking and key resources, which will hopefully assist journalists in deciding when to monitor and evaluate their own work and when to handover the investigation to activists or grantees.
The challenge of tracking impact
In our vision, (investigative) journalism holds powerholders to account and has an impact on wider society. The specific impact of a single story (or series of stories) is often hard to track, however.
Why impact should be tracked
Despite the challenge, tracking the impact of stories can be a very worthwhile endeavor with multiple applications. Beyond learning how to continue creating impactful stories in the future, journalists can also build a clear track record (especially important for non-profit media outlets applying for grants). Impact tracking offers journalists the opportunity to create input for follow-up stories describing the societal impact that followed the earlier publication. This is a great way to reveal to the wider public how that impact came to be.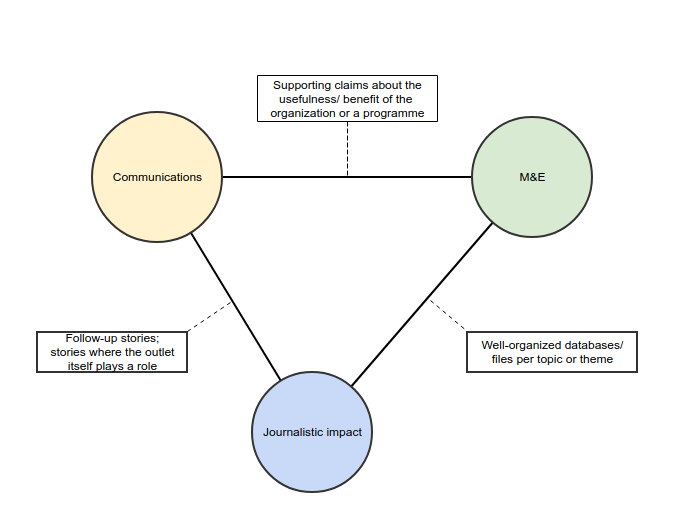 Important note:

While impact is important, it is essential to keep the dividing line between journalists and activists in mind. While we want media content in general to have impact, it is an open question how deliberate a journalist or media outlet should be about having any particular investigation result in a particular (political) outcome.
The outcome harvesting method
Outcome harvesting is a participative Monitoring and Evaluation (M&E) method that Free Press Unlimited and our partners have used to analyse press organisations' results. The method is particularly useful for:
Tracking the impact of complex media contexts (including numerous actors and factors)
Training media professionals to consciously consider societal impacts
The reasons why media outlets and their partners would use this method is to evaluate the results of publications on an outcome level. It can help media professionals switch from an activity-focused mindset to an outcome-focused way of thinking. The technique involves:
Determining what has changed
Working backwards to see which activities contributed to the change
Resources for tracking impact in a project or with grantees