When media professionals and Civil Society Organisations (CSOs) collaborate, investigations can dig deeper and societal impact can stretch further. Furthermore, media and Civil Society Organisations often experience the same challenges, especially in contexts of shrinking civic space. That's why cooperation between the two can have powerful affects and better foster accountability.
In this section, we provide 3 key examples of successful collaboration, each of which is used to illustrate a different way in which cooperating with CSOs can be mutually beneficial. This is what each of these 3 examples can teach us about cooperation between journalists and CSOs:
Tempo Media: CSOs often have the resources to help journalists obtain data as well as track the impact of their investigations.
Mind the Children: CSOs can play key advocacy roles which can bring public and political attention to the investigative work of journalists.
Tribal News Network (TNN): CSOs can learn from investigative journalists about media awareness which can boost the impact of their campaigns.
Shared challenges
One of the central obstacles for investigative journalists is to find reliable and detailed sources. Just as whistleblowers play an essential role in providing journalists with sources, CSOs can also provide media professionals with information that they would not otherwise have access to.
CSOs benefit from rigorous and impactful investigative journalism too, because it brings increased exposure to their cause and the particular issue at hand. Greater awareness and publicity for a cause is more likely to result in support for CSOs, be it political, social or financial backing.
Tempo Media fellowship programme
When Tempo Media modified their fellowship programme for investigative journalists and involved CSOs, the journalists were better able to track the impact of their stories, and indeed, consider societal impact right from the initial stages of their investigations.
Tempo Media is one of most important media outlets in Indonesia, with a strong track record of conducting high-profile investigative reports. Since 2016, Tempo Media has run an investigative journalism fellowship. A year into this programme, Tempo Media began to think of how CSOs could be better involved in the training process.
This consideration of CSOs arose from the responses of the fellows participating in the programme; they reflected on how they could strengthen their capacity to foster accountability in society. It was decided that increased collaboration from CSOs could bring added awareness to the investigations and also allow for greater impact tracking.
Impact tracking is important to the program because the individual journalists that are granted fellowships get little financial compensation for participating. The investment, instead, is in their reputation as investigative journalists, which is why following up on published investigative stories is so important.
Benefits of cooperating with CSOs
This is what has happened since the fellowship programme started involving CSOs:
The monitoring of impact has improved because CSOs have more resources and incentives (than the journalists) to record what a minister/other actors do after a story is published.
Thanks to the involvement of CSOs in the program, the fellowship is now better able to see if an investigation is feasible because the CSOs provide input on the sources.
Due to the success of the program, Tempo has started to work more with CSOs for other projects/ initiatives.
A key learning from the Tempo Media case:
Including CSOs, not only at the end of an investigation, but right from the beginning, can provide journalists with a momentum throughout their investigation. This momentum and support makes impact tracking easier after the publication of an investigation.
Find out more about the cooperation between investigative journalists and CSOs in the Tempo Media fellowship programme:
Mind the Children: CSO advocacy
This consortium project highlights how the collaboration between CSOs and media professionals can result in powerful advocacy, drawing the attention and support of both citizens and power holders.
Free Press Unlimited is currently a lead partner in a consortium project aiming to raise awareness of the large numbers of unaccompanied and underage migrants that come to Europe. Tragically, thousands of these children disappear and in order for effective measures to be taken to protect them, power holders and the public need to become aware of the extent of the problem.
This is where CSOs are proving invaluable in lobbying and advocating for these vulnerable minors. Journalists are trained and then produce stories on these mass disappearances which are then picked up and incorporated into the campaigns as CSOs as evidence.
Moreover, the CSO campaign efforts are bolstered by the support of European citizens who have been moved and motivated by the stories unearthed by the journalists. This strong connection between actors places greater pressure upon power holders to act in an accountable manner.
A key learning from the Mind the Children case:
When the CSOs drew greater public attention to the investigative work of the journalists, ordinary citizens felt compelled to participate. Once the public is mobilised in such a way, lobbying policymakers and advocating for change can level up, consequently making the fostering of accountability easier for all stakeholders.
The section below demonstrates how a public mobilised by the advocacy of CSOs can further amplify the work of journalists.
How CSOs and journalists can interact
Both CSOs and journalists carry out investigative work to inform audiences and foster accountability among power holders. Joint investigative work means CSOs and journalists can inform each other's efforts — a mutually beneficial cooperative effort.
This diagram illustrates the flow and impact of shared information: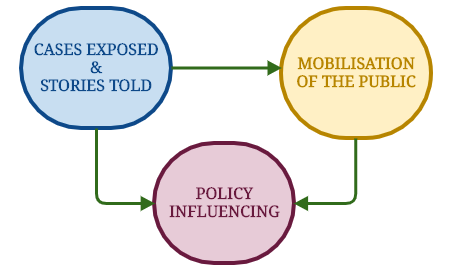 The collaborative outcomes for the Tribal News Network (TNN), Pakistan
This case will demonstrate the mutual benefits to be gained by both CSOs and media professionals when they collaborate. This TNN example shows how this collaboration works in practice, with a particular focus on what CSOs can gain from media-awareness training.
As part of Free Press Unlimited's 'No New is Bad News' initiative, The Tribal News Network (TNN) serves communities in remote areas, such as Pashtun. TNN's goal is to develop a sustainable business model for local media to foster accountability and improve media representation for the people living in these areas.
Free Press Unlimited evaluated TNN's progress on these goals with them in 2018; increased cooperation with CSOs had really helped TNN achieve their outcomes:
Two key learnings from the TNN case:
CSOs can share important expertise with journalists, opening up new reporting possibilities for them.
Having a strong and accessible communication channel is important for this expertise/knowledge-sharing to be achieved. In the TNN case, a WhatsApp group provided this communication channel and CSOs has started to share stories with TNN via it. Not only were issues to be reported on shared, but both parties had a direct platform to discuss the issues with one another. A further platform for discussion and exchange was the various workshops and trainings that TNN organised and hosted for local CSOs. Thanks to this improved knowledge sharing, TNN was able to publish 30% more stories on topics championed by CSOs involved in TNN-hosted trainings and workshops
Generating greater media awareness in CSOs makes future knowledge-sharing with the media easier.
When CSOs have been trained to understand exactly how their campaigns can reach a wider audience and have a bigger impact through the media, they can proactively involve the media at earlier stages of investigation and advocacy. TNN held a training workshop for local CSOs on the subject of media awareness. The training helped the CSOs to better engage with the media on a structural and sustainable level. The CSOs responded to the training by contacting local media persons and meeting with them to strengthen coordination. Some local CSOs also hired media managers once the awareness had been developed. This level of cooperation improves positive press coverage of the issues advocated by these CSOs.
A further example of impact in the TNN case
CSO's providing journalists with information they wouldn't otherwise have access to.
Some local CSOs had been advocating for a specific issue that the transgender community were facing in the region. Prior to the increased collaboration between TNN and the CSOs, marginalised groups were denied access to basic services, the ability to vote and the right to obtain proper identity papers. Trans people were, for instance, not permitted to obtain identity papers without the permission of their parents.
Since working together, TNN and trans rights organisations have been able to highlight the irregularities in the National Database and Registration Authority (NADRA) and successfully lobby for a change in policy.
Once the issue was published in the media and made known to a wider audience, the government took action and now Gurus (leaders) can confirm the identity of trans people instead of parents.