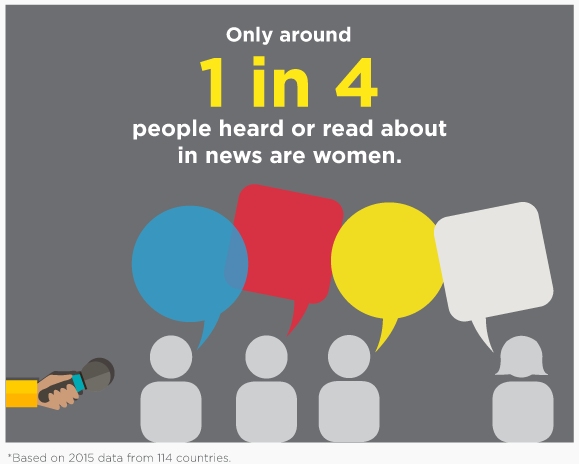 World-wide, women are underrepresented in news media and are often portrayed in stereotypical ways. According to the Global Media Monitoring Project (GMMP), women make up less than one in four (24%) of people heard, read about or seen in newspaper, television and radio news. The gender gap is most evident when it comes to 'serious' journalism such as political and government related news. Overall, the GMMP found that more than four in five (81%) experts interviewed on the news are men.
When women are featured in media, they are often portrayed in limited and stereotyped roles such as care-givers, models or victims. Women are more likely to be linked to superficial characteristics such as their appearance, clothing, age and relationship status, while men tend to be referred to in relation to their ideas, experiences and professions. The GMMP found that only 4% of news stories challenge gender stereotypes.
Learn more

The Global Media Monitoring Project provides the most comprehensive data on the portrayal of women in news media around the world.

Missing Perspectives is a global platform founded with one mission: to address the marginalisation of young women in both news coverage and decision-making around the world.

The missing perspective of women in COVID-19 news

Research by AKAS Ltd. shows that women are also underrepresented in media coverage about the COVID-19 pandemic.

Media play an influential role in how people form their identities, social norms and values in relation to gender. Media can perpetuate stereotypes but also challenge them. Research shows that from a young age, children are influenced by the gendered stereotypes that media present to them.
There is therefore an enormous potential for media to reflect a wider variety of roles and behaviors of men and women, thereby encouraging people to aspire to different, more gender-equal futures. Media can do this by presenting news in a gender-sensitive way, including more voices and perspectives of women, and raising awareness about issues related to women's rights and gender inequality.
Toolkit

Reflect Reality is a resource and toolkit for newsrooms, journalists and business professionals to increase women as sources in the news media.

A Gender Balance Guide for Media by Women in News aims to equip media organisations and professionals with the necessary tools and insights to increase gender balance in their content.
Explore this page to find out about different strategies to increase gender equality in media content.