"Reporting from a war zone is undeniably one of the most dangerous professions in the world. Indeed, journalists reporting from a conflict zone incur countless dangers, uncertainties, and obstacles within the exercise of their profession. While each conflict is confronted with its challenges, peculiarities, and threats, media workers encountered a set of shared risks and difficulties when performing their work regardless of the location. Their presence on the battlefield exposed them to significant risk and multiplied their probability of being collateral damage victims." 1
---
Danger of Conflict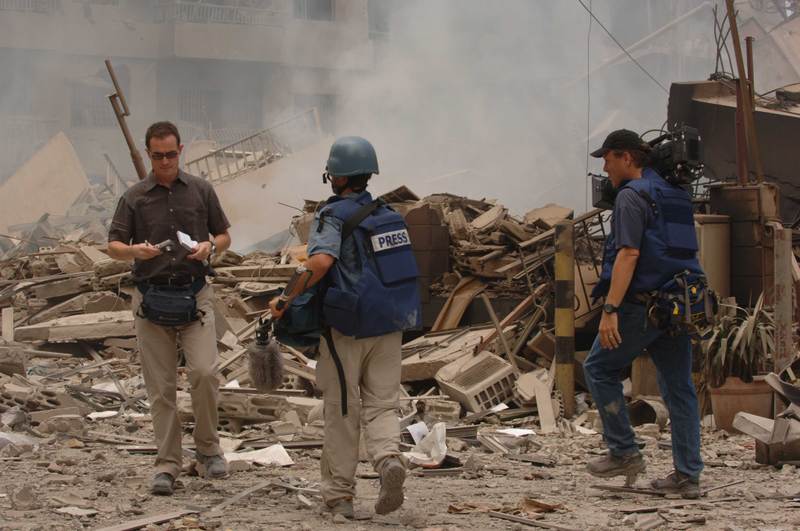 Over the past decades, media workers have been increasingly confronted with various dangers and exposed to an unsafe environment. According to numerous NGO's, their working conditions keep deteriorating for different reasons(2). For instance, one consequence of technological advancement and the appearance of social media, is the increasing dependency of conflict reporting towards sensationalism. Nowadays, the public wants to be provided with first-hand and close-up news stories. Unfortunately, this type of reporting is at the expense of journalists' safety, as it encourages professionals to take more risks than ever to broadcast exclusive news(3). Moreover, most media outlets which depended on freelancers as full-time war correspondents, became too expensive to be affordable. However, those freelancers take extra risks by not benefiting insurance, security, or translations. In sum, everything guaranteeing their safety and security(4).
---
Journalists: a target?
Journalists are also subject to targeted attacks and constant danger. Regardless of their essential role, the number of journalists who are intimidated, harassed, threatened, kidnapped, violently attacked, arbitrarily detained or murdered is on the constant rise(5). The war in former Yugoslavia marked a significant turning point for journalist security and war reporting in general. Before the war, wearing a jacket inscribing the word press ensured one's safety. However after the war, journalists were no longer considered neutral actors and instead were viewed as targets(6).
Learn more

Both articles, namely An Overview of the Current Challenges to the Safety and Protection of Journalists and Perception of Journalist reporting in conflict zones: labour situation, working conditions and main challenges in information coverage in contexts of violence provides extensive information and evidence regarding all the threats and dangers journalists face in their work and in wars
According to the Committee to Protect Journalists, between 1992 and 2021, 1,520 media workers and journalists were killed, of which 1,404 were journalists. In 2014, two-thirds of the total number of journalists who lost their lives died while being in a conflict zone. Afghanistan and Syria are two the deadliest places for journalists. Between 1992 and 2021, 64 journalists and media workers were killed in Afghanistan, while 139 were killed in Syria(7). However, those numbers do not include citizen journalists. Since 2011, over 707 citizen journalists have been killed in attacks according to the Syrian Network for Human Rights.
"Increased threats from DAESH to media and journalists have created a new wave of concerns about the security of journalists and media. What is seriously worrying is the group's direct attacks against media, which in 2017 is responsible for the vast majority of journalists' deaths." The AFGHAN Safety Committee 2017 Report
Learn more

For more information on the safety of journalists, explore the "Safety of journalist resource guide"
---
Impunity
In nine out of ten cases, perpetrators of crimes and physical attacks against journalists go unpunished by the judicial system. The UNESCO 2018 report on the safety of journalists and the danger of impunity indicates that of the 1,010 murders of journalists committed between 2006 and 2017, 89% were not legally resolved. Yet the percentage is likely to be higher in countries affected by ongoing armed conflict. Indeed, CPJ's 2019 Global Impunity Index placed Somalia, Syria, Iraq, and South Sudan as the first fourth-worst countries to prosecute journalists' murderers. The pervasive impunity of perpetrators contributes to the perpetuation of violence against journalists, while threatening the successful completion of their profession. Justice for journalists is crucial for ensuring freedom of expression and press, and the respect of human rights.
---
---
Footnotes
Perception of Journalist reporting in conflict zones: labour situation, working conditions and main challenges in information coverage in contexts of violence