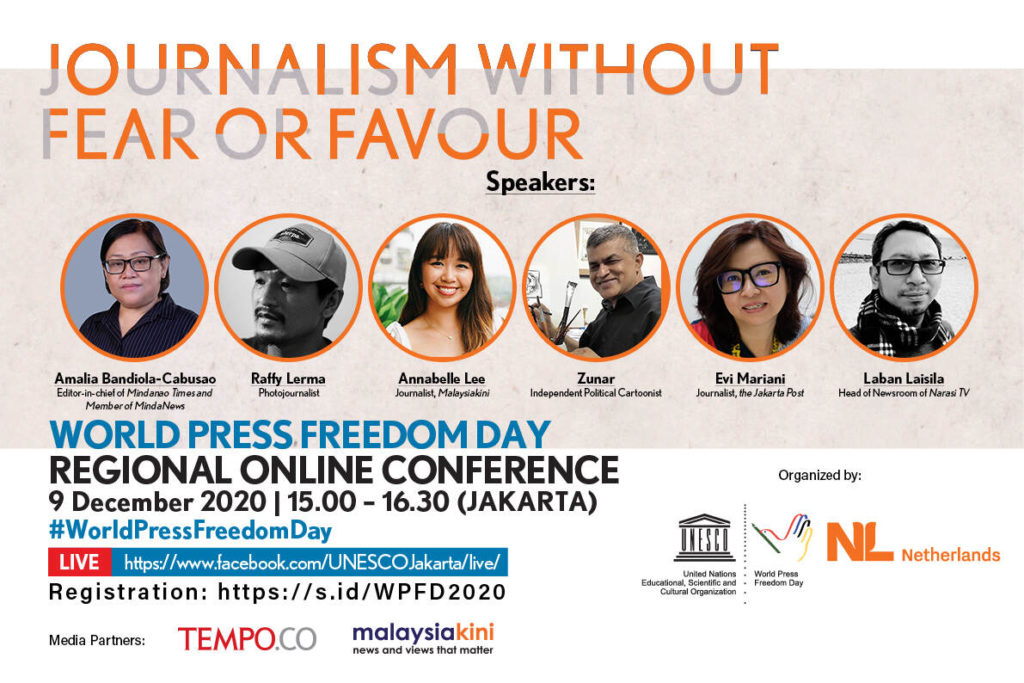 On 9 December 2020 the regional World Press Freedom Online Conference 2020 took place in Jakarta, Indonesia, jointly organised by the Embassies of the Kingdom of the Netherlands in Jakarta, Manila and Kuala Lumpur, UNESCO, and Free Press Unlimited. As part of this conference, both an open session (pictured above) and a closed session took place, entitled 'Experience Sharing and Solidarity with Journalists on Safety Issues from Indonesia, the Philippines, and Malaysia'. These three countries, which were central to this regional conference, are challenging environments for media professionals to work in. Therefore, this event served as an online consultation with journalist associations and media organisations aimed to explore the main safety threats for journalists in aforementioned countries. Additionally, the event aimed to identify opportunities for collaboration mechanisms, and other actors to step in and contribute towards a safe working environment for the media.
Read more

This background paper, written by Free Press Unlimited, is the result of a desk study to explore the main safety threats for journalists operating in Indonesia, the Philippines and Malaysia, as documented in literature.
This internal paper, written by Free Press Unlimited, describes the outcomes of the regional World Press Freedom Online Conference.
---
Safety challenges
Three common patterns were found among the challenges that media professionals in Indonesia, the Philippines and Malaysia face in performing their profession safely.
Legal threats and the weaponisation of laws
Digital threats, affecting women journalists and journalists from minority groups disproportionately
Physical violence and the impunity for crimes against journalists, leading to self-censorship
In all three countries, the COVID-19 pandemic has only exacerbated the pre-existing challenges present in the Southeast Asian media climate. Media outlets continue to struggle financially, and are battling the flood of fake news. Laws that have been but in place to curb the spread of fake news are often used to silence voices that are critical of the governments' strategies and to tighten the control of politics over media.
---
Steps (to be) taken
Many initiatives have already been launched in these three countries to support the safety of journalists. In implementing strategies, these countries can learn from each other, as there are many similarities in the problems that the media landscape is facing. Several examples that can be implemented are:
Digital security trainings to protect journalists against online harassment
Media literacy programmes for external stakeholders such as audiences, police forces and government officials
Increased focused on support from readers
Attention for the safety of freelance journalists, especially in remote areas
Update of safety regulations in media companies
Establishment of a Media Council
Initiatives that may also be continue in other countries are the Philippine Plan of Action on the Safety of Journalists (PPASJ) and the Indonesian Committee of Journalist Safety.
---
Opportunities for regional collaboration
There is still much untapped potential from regional collaboration in Southeast Asia. Opportunities for regional collaboration that have been identified were as follows:
Putting joint pressure on big tech companies to install policies that are friendlier towards press freedom
Regional knowledge sharing and monitoring platforms
Joint advocacy initiatives, such as the publication of regional solidarity statements
Regional collaboration through the Southeast Asian Press Aliance (SEAPA)
---
Future of journalism
The media landscape can change very drastically in a short time span, and it is very difficult to predict these changes. However, it is important that media are flexible in order to keep up with the changes that are happening in society.
One way to achieve this flexibility is to ensure the support of the audience. Both the moral and financial support of this stakeholder are necessary for media organisations to survive. The general public also needs to be aware of the crucial role that journalists play in society, and the fact that threats to journalists affect society as a whole.
Furthermore, it is important that media and journalists prepare for the challenges of the future. The spread of disinformation and fake news, and the fact that this is sometimes deliberately used by governments to influence public opinion in their favour, calls for action.